6 Billion Ways presents an evening of short films, speakers, music and info stalls.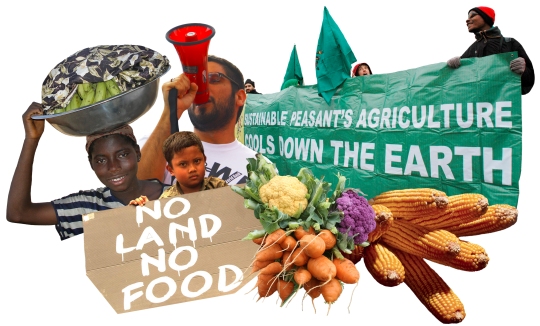 While a billion people go hungry, hundreds of thousands suffer obesity and food producers in rich and poor countries alike struggle to make a living. The global food system is dysfunctional – but there are solutions. Our evening will explore the idea of food sovereignty, a way of putting both people and the planet first, and challenging the corporate dominance that makes our food system so unsustainable.
We'll have a series of short films, interspersed with expert speakers and discussion. Then Asian Dub Foundation's John Pandit will kick up some tunes while you dance, chat or find out more about food justice campaigning.
Tuesday 20 September, from 6.30pm
Ground floor bar, Rich Mix, 35-47 Bethnal Green Road, E1 (googlemap)
Free event, paid bar available
Films
The Real News report from Honduras – A report from Honduras documenting the evictions faced by small farmers and the growing movement of farmers seeking constitutional reform to guarantee a more equal land distribution.
Not a very green revolution – A short film highlighting the problems with India's 'Green Revolution' where unsustainable agriculture has caused environmental problems and driven farmers into debt.
I eat therefore I am –  Critically analyses the workings of the modern global food system and powerfully advocates the necessity of food sovereignty as a solution.
Detroit: Rising from the Ashes – The story of Detroit residents attempting to rebuild and revive their derelict communities through growing their own food in 1,300 urban gardens.
Natabar the seed farmer – The story of farmers like Natabar, who reject dependence on industrial hybrid seeds in favour of saving indigenous rice seeds.
Upendra has worms – A very short film which documents a growing shift back from the use of chemicals to traditional agricultural methods, such as the use of worm-culture in sustainable organic farming.
Speakers
Kirtana Chandrasekaran A food campaigner for Friends of the Earth International, who will talk about the growing global movement for food sovereignty in the context of corporate dominance of the food chain.
Dan Iles Local food campaigner in Bristol, involved in setting up a grocery co-op, and a UK delegate to the European Food Sovereignty Forum in Austria this August, which he will be reporting back from.